Recording the "Woody: For the People" Opera

Under the guidance of Dr. Everett McCorvey of the UK Opera Department, several of the arias from the Woody Guthrie opera were recorded by a 32-piece orchestra and performed by award winning opera singers to send to dozens of opera companies around the country wanting to program a performance during 2012, the centennial celebration of America's musical hero from Oklahoma, Woody Guthrie.
LYRICS: for a PDF of the lyrics and song description CLICK HERE
"Woody: For the People" Aria Samples
Composed and arranged by – Michael Johnathon;
Recording engineer – Rick Marks
The Voices: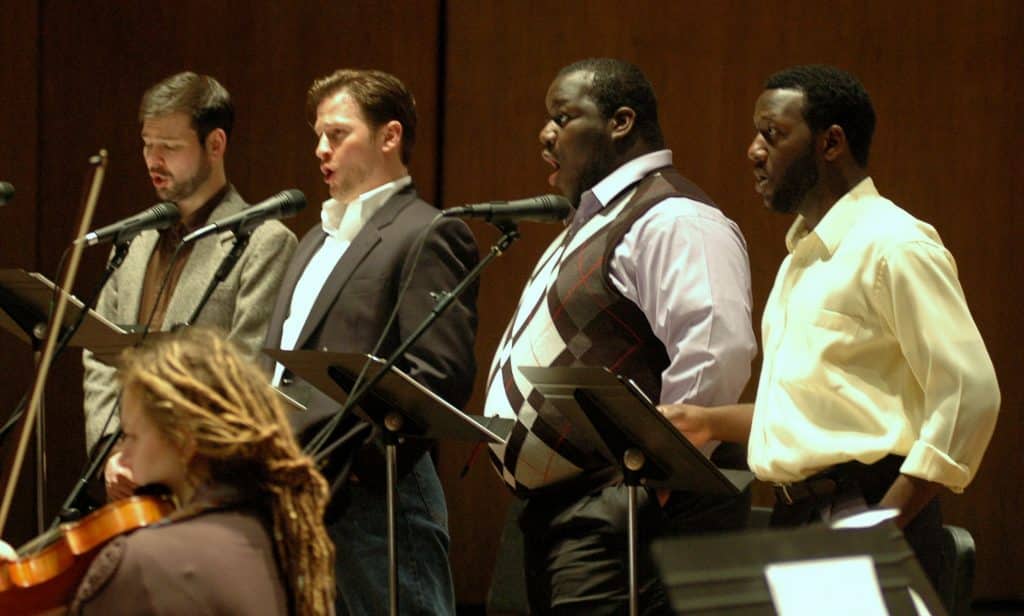 Woody Guthrie – Nicholas Provenzale;  Pete Seeger – Gregory Turay;  Paul Robeson – Reginald Smith, Jr.;  Policeman – Jason Brown;  Hobos – Dennis Bender and Manual Castillo 
The following are just some of the arias of ACT ONE: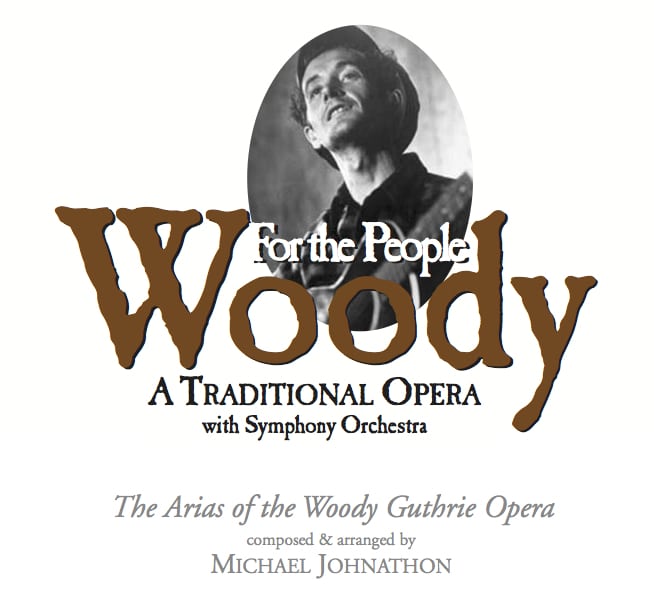 ©Michael Johnathon/Rachel Aubrey Music/BMI
This is the opening overture and aria of the Woody Guthrie Opera … In 1939 Woody was crossing America after working for a month at the Bonneville Power Administration in Oregon, writing a batch of songs to be used in a documentary about the Grand Cooley damn. After visiting his wife Mary in Texas, he was on his way back to NYC when he got stranded in Pennsylvania. Cold, tired, broke and nearly frozen to death in a snowstorm, Woody's life was literally saved by the kindness of a policeman. The opera opens with Woody in the snowing coldness of winter.
©Michael Johnathon/Rachel Aubrey Music/BMI
Of course, hitch hiking and train jumping are a major part of the Guthrie image. In the opera, Woody meets up with fellow hobo's, out-of-work travelors.
©Traditional, Arr. & Adapted by Michael Johnathon/Rachel Aubrey Music/BMI
Woody meets up with the policeman and finally Pete Seeger. The policeman brings them to a cafe to warm up and have some coffee. At the cafe table, they meet the great Paul Robeson. In real life, the three were in fact friends and this song was one of the famous Robeson melodies.
©Michael Johnathon/Rachel Aubrey Music/BMI
In the cafe, Woody and crew hear the Kate Smith recording of Irving Belin's "God Bless America" and Woody is, as he was in real life, incensed over the song and it's syrupy approach to what was happening around him. They contrast the "make believe" images of the Berlin song with what they actually believe, and this is Woody's response. Michael Johnathon performs this aria in concert with a string quartet and Anne McReary on vocal.
©Michael Johnathon/Rachel Aubrey Music/BMI
In the final moments of Act One, the policeman goes home to his wife, Paul moves on to his family, Pete will travel, with Woody, back to New York to be with his wife Toshi … but Woody has no one, except possibly his growing affection for the new lady in his life, a New York dancer named Marjorie. She later became mother to some of Woody's children, including Arlo.
In  Act Two, Woody and Pete encourage the idea of music and singing as a way to heal the wounds of a world war. This is Michael Johnathon performing the airai with the Niles Quartet in concert in the way it would be presented in the Opera.
In  Act Two, Woody Guthrie, Pete Seeger and their wives dance to this folk version of the song. Michael Johnathon performs the composition as it would be presented in the Opera.
All songs protected under US Copyright Laws and are provided for listening review only. File sharing and reproduction of any kind are strictly prohibited.