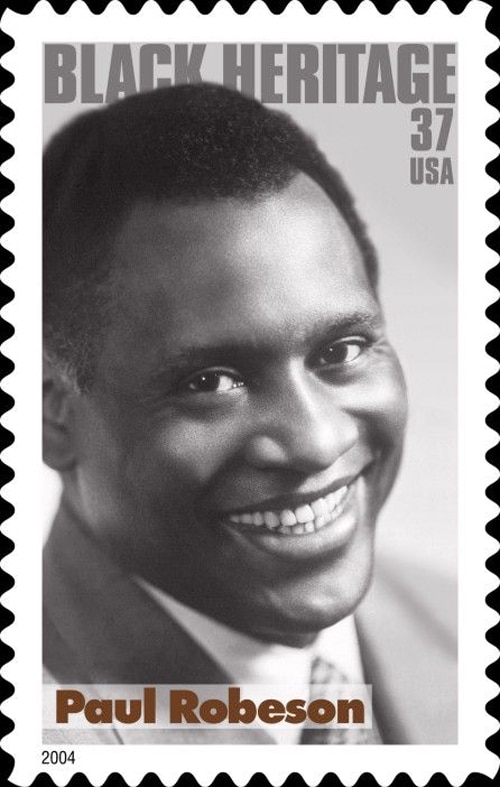 Paul Robeson, 1898 – 1976
Lawyer. Actor. Singer. Freedom Fighter
Paul Robeson was a good friend of Woody Guthrie and Pete Seeger. He was an opera concert giant of his day, a true Renaissance man talented in so many fields that he still remains bigger than life – even now.
He was an All-American athlete, singer, actor and civil rights advocate for people around the world. He rose to prominence when segregation was legal in the United States and African-Americans were being lynched by white mobs, especially in the South.
Paul Robeson was born in Princeton, New Jersey on April 9, 1898.He was one of five siblings. His father escaped from a North Carolina plantation and later graduated from Lincoln University in Pennsylvania. Paul Robeson's mother, Maria Louisa Bustill, came from a family of free Black Quaker Abolitionists. She was a teacher and died when Paul was only five years old.
Paul attended Somerville High School in New Jersey and graduated with honors in 1915, excelling in academics, athletics, singing, and acting. He believed that a person had a duty to serve not only one's "own" race, but the entire human race as well. He also believed that a person should stand up for one's principles, without fail or excuse.
He was known to have one of the few true bass-baritone voices in American music. His powerful voice brought him fame as a singer and actor. In addition to his stage performances, his renditions of old spirituals were acclaimed, and Robeson was the first to bring them to the concert state.
Robeson may best be remembered for his performance as Joe in Showboat, in which he first appeared in London in 1928.He also starred in the musical on Broadway (1932) and in the film version in 1936.Robeson's "Ol'Man River" became the standard by which to measure all others. He is known for changing the lines of "Ol' Man River" from the meek "I'm tired of livin' and 'feared of dyin'," to a declaration of resistance, "I must keep fightin' until I'm dying."
Robeson earned international acclaim for his lead role in Othello, and performed in Eugene O'Neil's Emperor Jones and All God's Chillun GotWings.His 11 films included Body and Soul (1924), Jericho (1937), and Proud Valley (1939). In New York in 1939, Robeson premiered in Earl Robinson's Ballad for Americans, a cantata celebrating the multi-ethnic, multi-racial face of America. It was greeted with the largest audience response since Orson Welles' famous "War of the Worlds." It was even sung at the Republican Presidential convention.
In 1976, at the age of 77, Paul Robeson died in Philadelphia, PA.